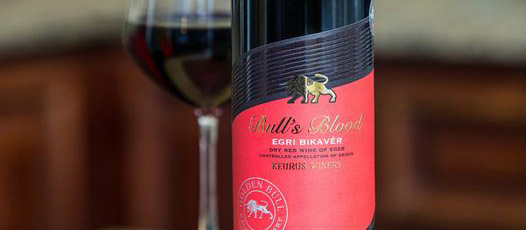 Author: Randy Hamilton
Originally Published in Coastal Palate Magazine, October 2023

I love wine, and what I love even better, is a wine with a great story to accompany it. This is why I cherish the wines from Hungary that seem to always be attached to a centuries-old myth or legend.
Hungary's most famous dry red wine is known as Bikavér (from bika meaning bull and vér meaning blood), more widely known as Bull's Blood. It attained mythical status through its intriguing story dating back to the 16th century when the Ottoman Empire was invading Hungary.
Legend has it, that when the Ottomans attacked Eger's Castle, the general in charge of the Hungarian soldiers defending the castle gave them red wine to embolden them and to help achieve victory. The troops drank the wine as medieval soldiers would do, spilling it all over their beards and clothes. Filled with liquid courage they became fearless and overwhelmingly defended their castle, repelling the Ottomans. Having been face to face with men who appeared possessed and covered in a red substance the Ottoman soldiers arriving home from the battlefield told their leaders that the Hungarian troops must have been drinking bull's blood to account for how ferociously they fought. The Ottomans did not associate the red-staining with wine because Muslims abstain from alcohol. Historians cannot verify this ever happened, so it is considered just a legend, but still fun to imagine.  
Hungary's winemaking reputation took a bad hit during the communist era of the 1970s and 1980s. Bull's Blood especially lost its rank among the top wines of the world due to the mass production of low-quality vintages. It became quantity over quality. It was inexpensive and considered at one point, just a novelty wine. That stigma is starting to quickly disappear. Wineries in the Bikavér producing regions are once again creating elegant, high-level, Bikavérs with easy drinkability.
Many of the vineyards that produce Bikavér have been hesitant to embrace the Bull's Blood legend because of its past association with unsatisfactory wines.  Fortunately, that mindset is changing. More and more bull images are showing up on the bottles of these great wines. Hungarian winemakers recently have been re-embracing the history of Bikavér wines.
Historically the blends of Bikavérs were kept secret and varied from maker to maker. These days the blends are no longer permitted to be kept hidden. They are strictly regulated and precisely defined by law. Bikavérs can only be produced in two regions. Eger, in Northeastern Hungary where the wine tends to be a little more tannic with earthier tones, and Szekszárd in southern Hungary, which produces a slightly more mellow style. Egri Bikavér has three categories: Classicus, Superior, and Grand Superior. Szekszárd has two categories: Regular and Premium. All categories require aging in oak barrels for a minimum of six months or more, but the oak never plays a major role, it just tames it ever so slightly.
Much of the elegance that shines through comes from Hungarian Kékfrankos grapes, also known in Austria as Blaufränkisch. This grape exhibits a firm mineral structure with intense wild berry fruit flavors combined with a spicy kick and earthy undertones coming through at the finish. Kékfrankos is required to be the major varietal in all Bikavér blends. Other varietals in the Bikavér blends tend to be Kardarka (known as the "Hungarian Pinot Noir"), Cabernet Franc, Merlot, and Zweigelt. Overall Bikavér blends tend to have high acidity, medium tannins, and tart dark fruit expressions.
When pairing this wine with foods, it is bold, so it needs robust, flavorful foods such as red meats and hearty stews. The staple food of Hungary that combines both of those, is Hungarian goulash. I can tell you from experience, that Bikavérs and goulash are a perfect marriage of food and wine. 
Finding Bikavérs can be a little difficult to locate throughout the U.S., and the Pensacola area is no different. I have visited almost every wine shop in the area and I have only found Egri Bikavérs at Merefa European Eastern Grocery in Pensacola, and also at Destin Euro Market. If you are patient, The Bottle Shop of Pensacola will do a minimum 1 bottle special order of it. This wine even offers up an adventure just to locate it for purchase, but it is worth it.